Hey, let's move Guantánamo up to Montana!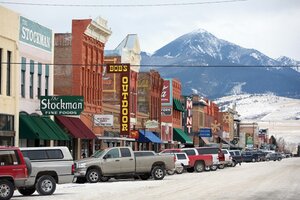 MELANIE STETSON FREEMAN / CHRISTIAN SCIENCE MONITOR
Well, the town of Hardin, Montana, liked the idea anyway.
Credit their ingenuity. Town officials in Hardin (population 3,384) have a 460-bed detention center that has sat unopened since construction in 2007. With construction loans in default and a need for tenants to fill the facility, they started examining their options.
So with President Obama announcing the upcoming closure of Guantánamo Bay, the town leaders got to thinking they have prisoners, we have a spare jail....and it's not going anywhere....
This is a no brainer, right? Or as Bill Murray said in Caddyshack, "It's in the hole!"
Go forth
Exactly, thought the Hardin City Council. They loved the idea and by a 5 - 0 vote told the local economic development team to go forward and rally up some support from state and federal officials.
After all, they've got the competitive advantage.
"There are 50 states, and some state is going to get this and they're all going to have issues and they're all going to need money," local economic development leader Greg Smith told the Billings Gazette. "But we have something the others don't."
An empty jail. Or as the website RantRave called it: Montánamo Bay.
Delegation
So is Montana's congressional delegation jumping at the idea?
---