Air Force One photo op panics NYC - finger-pointing begins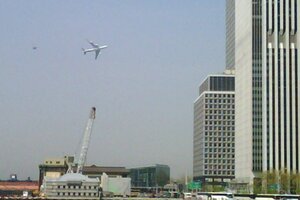 JASON MCLANE/AP
Of course no one is taking responsibility for this. Who would want their name on this public relations fiasco?
Following an astonishing decision to let a Boeing 747 buzz the Manhattan skyline this morning without informing the public, you get what you typically expect from government when a mistake is made: not my fault.
9/11
Bringing back memories of September 11 to New York City residents, entire buildings were evacuated after -- what turned out to be one of President Obama's planes -- swooped low over the Statue of Liberty into lower Manhattan on Monday morning. The 747 was escorted by two F-16 fighter jets.
Sounds somewhat similar to the hapless single engine pilot who accidentally strayed into restricted airspace in Washington, DC last Friday. Except that was an accident. This was an "approved activity." Except no one told the public it was going to happen.
Panic
John Leitner, a floor trader at the New York Mercantile Exchange Building, told the Associated Press that about 1,000 people "went into a total panic" and ran out of the building around 10 a.m. after seeing the planes whiz by their building, near the World Trade Center site.
---