White House accepts blame for panic caused by Air Force One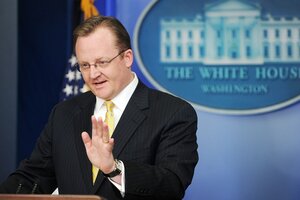 NEWSCOM
You can bet as soon as White House Press Secretary Robert Gibbs left the podium on Monday, he was on the phone with the White House Military Office (WHMO) demanding answers.
It was apparent that he didn't have any when asked by the White House press corps why one of President Obama's airplanes was involved in an incident earlier today that panicked thousands of New Yorkers.
Background
In case you haven't heard about it, a Boeing 747 escorted by F-16 fighter jets swooped down on Lower Manhattan this morning causing New Yorkers to spill out on the street thinking their city was under attack again.
Instead, the plane was just being used in a photo op. And no one from New York questioned the FAA's direction to keep news of the event from filtering out to the public.
You can read more about this here.
---