Palin group tries to derail Sebelius HHS confirmation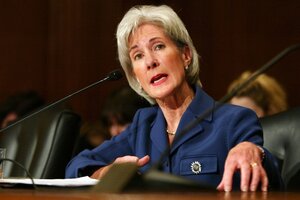 NEWSCOM
Congratulations, you got the job. Now fix the Swine Flu problem ...
If things go right for Kansas Governor Kathy Sebelius, that'll be her first task as President Obama's Secretary of Health and Human Services. Debate begins this morning over her confirmation, and the vote is expected this afternoon.
She needs 60 votes to clear confirmation and it looks like she'll get the nod.
Derail
That's not to say the forces against Sebelius aren't making a full-out attempt to derail her. Some 70,000 supporters of Sarah Palin are staging a late-in-the-game rally against her confirmation.
Yesterday, the TeamSarah website sent out an "action alert to its members, asking them to call the office of Sen. Sam Brownback, R-Kansas, and urge him to vote against Sebelius' confirmation."
"Today's the day! Our Not on Our Watch! Phone Bank Blast is set for TODAY from 2pm - 4pm ET. Write a note & stick it on your forehead, set your cell phone alarm - do what you have to do to remember to make your calls TODAY!"
Although these are supporters of Palin, it's not as though she's leading the charge against Sebelius. "The organization has no formal connection to the governor," notes the Anchorage Daily News.
Sam I am
All eyes will be on Kansas Senator Sam Brownback today to see how he votes.
The Kansas City Star reports that although he was expected to vote in favor of Sebelius' confirmation, his vote has softened.
---