Air Force One fiasco -- Obama demands review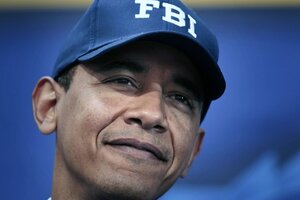 NEWSCOM
As President Obama addresses the nation tonight (unless you're watching FOX - they're opting out) it seems likely that at least one of the questions will be about the ill-advised Air Force One photo op that panicked New Yorkers Monday.
Although Arlen Specter's announcement yesterday has moved the national discussion forward, the photo shoot -- intended to capture a patriotic image of Air Force One with the Statue of Liberty beaming in the background -- isn't going away.
It's still big news. The president's press secretary announced yesterday that the White House will "conduct a review into how the decision was made to conduct the flight."
The goal? "To understand why the decision was made and to ensure that it never happens again."
The public relations disaster cost taxpayers $328,835. And everyone's pointing their fingers at one guy -- Louis Caldera.
Caldera
He's the individual -- in his role as the director of the White House Military Office -- who took full blame for the photo shoot in a statement emailed out by the White House press office Monday.
---