Obama to discuss flu, budget, economy, and other stuff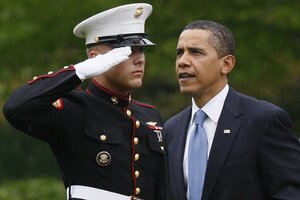 CHARLES DHARAPAK/AP
It's like a trailer. You know, the preview to the movie -- the best parts -- so it entices you to go to the show.
And the trailers are usually great. They make Ben Affleck movies look good.
The White House has just released their version of a trailer moments ago emailing out selected excerpts from the president's press conference tonight.
We've looked them over and at least in the preview there's no mention of the Air Force One photo op fiasco, new best friend Arlen Specter, his teleprompter, his daughters' new swing set, or the new First Dog, Bo.
Instead the president will discuss swine flu, his budget, the economy, lack of regulations, unemployment, and his take on the first 100 days in office. SPOILER ALERT: He gives himself a thumbs up.
Drama
Obama will then take questions from reporters. Will they all agree with him? Or will there be another Ed Henry moment?
---