Aide resigns over Air Force One fiasco -- Biden not involved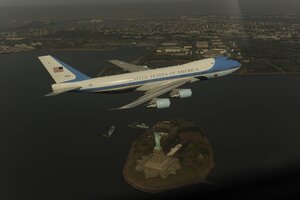 WHITE HOUSE PHOTO
Once news broke that an Air Force One jet buzzed Lower Manhattan for a photo op, do you think Obama aides checked to see where Vice President Biden was?
Thankfully for the president, it wasn't the Veep's idea. It was Louis Caldera, the director of the White House Military Office (WHMO), who rubber-stamped the mission and ultimately paid for it with his job.
Caldera submitted his resignation yesterday and to no surprise, it was promptly accepted. The White House wants the memory of this fiasco to fade -- and fast.
"I have concluded that the controversy surrounding the Presidential Airlift Group's aerial photo shoot over New York City has made it impossible for me to effectively lead the White House Military Office," Mr. Caldera wrote.
Effective?
But was he effectively leading it in the first place? The White House review of the incident shows that Caldera was informed of the mission but missed numerous chances to stop it from happening, failed to alert senior White House officials about it, nor did he even recognize that the public might have a reaction to seeing a jumbo jet tailed by military aircraft swooping down on the city.
---