Obama lampoons Biden, teleprompters and staff at big dinner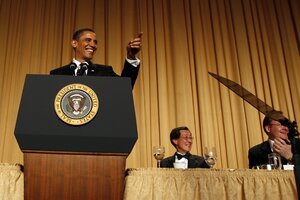 NEWSCOM
I'm here all week, try the veal...
It's not the first time President Obama has tried his hand at stand-up comedy. Whenever his teleprompter breaks, for example, he gets tons of laughs.
But last night's performance at the White House Correspondents Association dinner, the jokes were intentional. And they were funny. He was funny.
Staff
Despite scorn from people who say "now is not the time to make jokes," President Obama made jokes and scored big laughs from lampooning himself and his staff. Although he would veer off and take a few shots at the right, you could say his best material was when it was more self-directed.
Like on the ever-present chatter on his use of a teleprompter.
"I had an entire speech prepared," he began. "But now that I'm here, I want to try something different. Tonight, I want to speak from the heart. Speak off the cuff..."
Perfectly timed, two extremely loud teleprompters rose up from the stage. Then he nailed it with a predictable but very funny line.
"Good evening. Pause for laughter," he said (to laughter).
Undoubtedly there will be those who believe he said "pause for laughter" by mistake. But there's precedent for that. Some opponents swear that he accidentally introduced himself when his teleprompter actually did blow up a couple months ago.
---