White House offers comedy advice to Wanda Sykes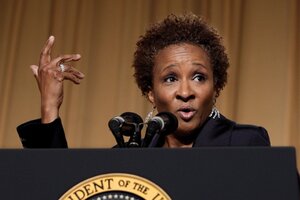 NEWSCOM
It happens at every White House Correspondents' dinner. Someone gets bent out of shape over something said in jest.
Quite often it breaks down by party affiliation. The party that gets burned cries foul while those on the other side think the jokes were funny.
But in the case of one Rush Limbaugh joke, even the White House thinks comedian Wanda Sykes could have used a little more discretion.
"I think there are a lot of topics that are better left for serious reflection rather than comedy. I think there's no doubt that 9/11 is part of that," Robert Gibbs said today at his briefing.
Jokes
The joke in question?
"Rush Limbaugh said he hopes this administration fails," Sykes said. "So you're saying, 'I hope America fails.' You're like, 'I don't care about people losing their homes, their jobs, our soldiers in Iraq.' He just wants the country to fail. To me, that's treason.
"He's not saying anything differently than what Osama bin Laden is saying. You know, you might want to look into this, sir, because I think Rush Limbaugh was the 20th hijacker. But he was just so strung out on OxyContin he missed his flight."
Not everyone laughed at that joke. She recognized it and said, "Too much?"
If it was, that didn't stop her.
"Rush Limbaugh, I hope the country fails; I hope his kidneys fail, how about that?" she continued. "He needs a good waterboarding, that's what he needs."
It's a joke
---