Palin announces new book - but will it be banned?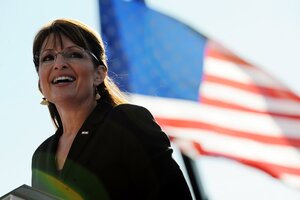 If this were a snarky blog, we would begin this post by writing: "It's turning out to be an all-star year in the land of high culture.
"The Rod Blagojevich musical is a runaway hit and now details have emerged about a new book from Sarah Palin. No word on the highly anticipated country album from Joe the Plumber."
But since it's not snarky, we'll begin by saying that Alaska Governor Sarah Palin is talking about her new book. She announced yesterday that her memoir will be published by HarperCollins and is scheduled for release next spring.
This isn't the first time we've heard about the book deal. In January there were rumors that Palin would be paid $11 million up front for the rights to her story -- a figure she called "laughable."
But considering her star appeal and the agent who brokered the contract, she's the one likely to be laughing, whatever the amount. She retained Robert Barnett, the Washington lawyer who managed the book deals of President Obama, President Clinton, Hillary Clinton, and Tony Blair among others.
---