Sarah Palin's $150,000 wardrobe malfunction ruled OK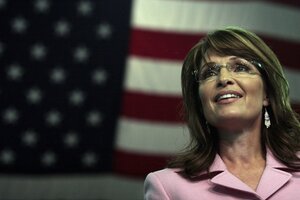 NEWSCOM/FILE
Well, it was never a Janet Jackson-like wardrobe malfunction, but the Sarah Palin version received every bit of the press coverage -- probably more.
And now, seven months later, not only does it promise to be a part of Palin's new book but the issue has finally been resolved.
No prob
The Federal Election Commission ruled yesterday that the Republican National Committee did no wrong in directing $150,000 in funds to gussy up Palin and brood during the 2008 campaign.
The Citizens for Responsibility and Ethics in Washington (CREW) filed the complaint alleging campaign finance laws were broken as result of the expenditure. The RNC said all was above board stating they used party money not money from campaign donations.
The FEC said there was no evidence to the contrary and much like Oran Juice Jones said to his wayward girlfriend: You dismissed! (How often can you quote Oran Juice Jones? It's a small window of opportunity).
---
Follow Stories Like This
Get the Monitor stories you care about delivered to your inbox.