Obama versus Cheney in steel cage wrestling match today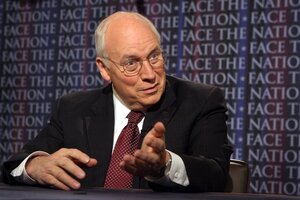 KARIN COOPER / CBS / AP
Well, not literally...
But they are going head-to-head. Not in the same space. Not on the same stage. But they are giving back-to-back speeches. And the news networks are blowing it up into the equivalent of a steel cage wrestling match.
The topics of the speeches are the same thing: National security and Guantanamo Bay.
President Obama will deliver his address at 10am ET while Vice President Cheney speaks 45 minutes later. You can catch the speeches on all the news networks.
In one corner
Look at the hype. This is how Today Show host Matt Lauer discussed it this morning:
"President Obama and former Vice President Cheney are going to square off over the president's plan to close down Guantanamo Bay detention center where some 240 terror suspects are being held."
Then NBC's chief White House correspondent Chuck Todd almost salivated over the prospects
"Vice President Cheney didn't run for president. It was a rarity -- in some 50 years we didn't have a sitting vice president run," he said. "So we didn't get that debate between candidate Obama and candidate Cheney..."
"While we won't get a debate today, we're going to get the next best thing."
Polls
Todd went on to say that politically speaking, it's not a fair fight because of the former vice president's approval ratings. While nowhere near President Obama's continuing high marks, Vice President Cheney's numbers are moving. Up.
---