Breaking news: Obama orders cheeseburgers (Biden not invited)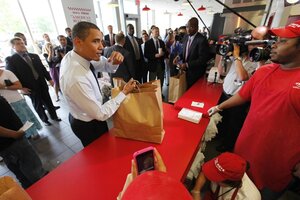 GERALD HERBERT/AP
No, it's not to the level of announcing a new policy on North Korea. Nor should it be equated with the unveiling of an updated military strategy in Afghanistan. It doesn't even stand up next to an announcement on a Supreme Court nominee.
But perhaps next in line would be the breaking news that President Obama did go to a fast food restaurant today and ordered a cheeseburger.
In fact, he ordered many cheeseburgers. Not because he -- like nearly every American -- is desperately trying to gain weight to fit into that summer bikini. But reportedly he ordered multiple cheeseburgers for his staff back at the White House.
Controversy
Not to stir up a controversy, but it should be noted that he also ordered a grilled cheese sandwich, as well. Some will undoubtedly make a big deal out of this. We're just putting it out there.
The particulars of Obama's cheeseburger are also available. He ordered lettuce, tomato, jalapeno peppers and mustard. Not necessarily in that order. However, once we check the official transcript and have a detailed discussion with the presidential stenographers we will make an addendum to this breaking news alert.
The president was joined by NBC's Brian Williams who is shadowing the president for a "day in the life" program to be aired in June.
Economy
Obama spoke with patrons at the restaurant, and when asked how the presidency was going so far, Obama didn't flinch.
"So far so good," he said. "About what I thought."
Then the bombshell. The direct contradiction.
---