Rep. Hoekstra says Iran turmoil similar to dealing with Nancy Pelosi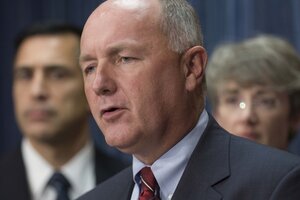 NEWSCOM/FILE
You can see where he was going with the analogy but it doesn't exactly work.
The same Congressman who tweeted the whereabouts of a mission to Iraq last year is getting into some hot water again because of his Twitter use.
Just like Iran
This time Michigan Representative Pete Hoekstra compared the Twitter activity in Iran to when Republicans used Twitter to express dissatisfaction over Speaker Pelosi's decision to adjourn Congress.
"Iranian twitter activity similar to what we did in House last year when Republicans were shut down in the House," Hoekstra tweeted from his BlackBerry today.
It's almost exactly the same. Except there's been five straight days of protests in Iran, foreign journalists are banned from covering the demonstrations, at least eight people have been killed, violence is widespread, protesters have been jailed, and businesses closed down early today just so hundreds of thousands of people could protest the election results at a rally.
This compared to last August when a few Republicans got on their BlackBerries and voiced their disappointment with Speaker Pelosi's decision to adjourn Congress before taking a vote on an energy bill. They tweeted for awhile, enjoyed a ham sandwich, and then went on vacation for a month.
---