Schwarzenegger shows some swagger after emergency plane landing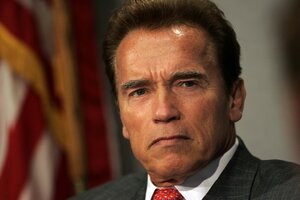 NEWSCOM
Had this been a movie, Arnold Schwarzenegger would have taken the controls of the aircraft, launched a gritty attack on a group of terrorists, held on to a dangling Danny Devito by one finger thousands of feet above the LA skyline, all while balancing California's budget crisis before successfully landing the plane.
In real life, it wasn't so dramatic. But who are we fooling? We weren't on Schwarzenegger's plane when smoke in the cockpit forced his pilot to make a "quick, steep, but safe" emergency landing in Los Angeles last night.
That's plenty of drama. And in typical Schwarzenegger fashion, he reacted with some swagger after the emergency landing alerting his Twitter followers that everything was good.
"A little adventure just now when my plane made an emergency landing. All's ok, though," he said.
Swagger 
How many other other people would call the "quick and steep" emergency landing after smoke was reported in the aircraft "a little adventure"? And then think to use Twitter to tell everyone about it?
Schwarzenegger Press Secretary Aaron McLear told The Vote that it's just typical for the "Governator."
"The Governor loves to be able to communicate directly with the people so he tweets regularly," McLear said. "After his plane landed safely he wanted to share his little adventure with his Twitter followers. It shows how calm he was that his first thought was to tweet."
---