Twitters best comments during Mark Sanford's bizarre press conference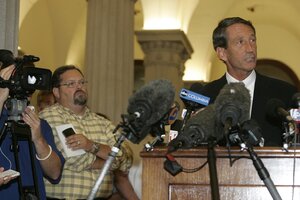 NEWSCOM
There have been numerous examples of the power of Twitter of the past year. Most recently in Iran where thousands of citizens have used the social messaging medium to protest the June 12 presidential election.
Because of the government's crackdown on the press, Twitter has become a main source of news information from Iran to the rest of the world.
So how did the social media tool fare during South Carolina Governor Mark Sanford's press conference today? In case you weren't paying attention, Gov. Sanford assembled the press at the State Capitol in Columbia to admit he was having an affair.
First, at least five of the top ten most tweeted topics (at least of this publishing time) had to do with Sanford or his admission of an affair with a yet-to-be-identified Argentinian woman.
Of course there's a big difference with the unrest in Iran and the news of yet another politician (they seem to be all trending Republican lately) tearfully admitting an extramarital fling. So you might expect the Twitter traffic to be more lighthearted or snarky than what we've been seeing in Iran.
Oh, and it was. And it is. It's like people are using Twitter to audition for The Improv. Or to be talking heads on MSNBC. Or FOX.
Republicans have been having a miserable year. So they gotta cling on to whatever they can. Like this one: CSundquist: "If Sanford had cheated on his taxes instead of his wife he would be a Cabinet member by now."
---