Sanford disappears, John Kerry makes Sarah Palin joke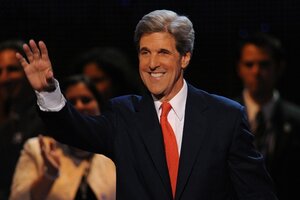 NEWSCOM
Come on. Who didn't see this one coming? One Republican Governor goes missing and someone makes a joke about wishing it was Sarah Palin. It's an easy one.
And just like Rodney Dangerfield would tell his predictable "I get no respect" jokes (which, incidentally, were hilarious), you knew someone would bring up Governor Palin.
And the award goes to the funniest guy in the US Senate. Er.... Well, the award goes to Senator John Kerry.
The Boston Herald reports that Kerry was speaking to a bunch of business leaders he invited to Washington when he brought up the disappearance of Sanford (this is before Sanford's press conference) and linked it to the Alaskan governor.
---