Obama beer summit provides gold mine for comedians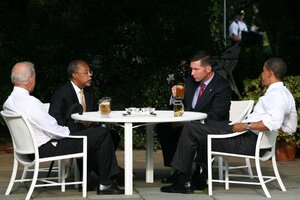 NEWSCOM
Although many were pleased with President Obama's decision to have Harvard professor Henry Gates and Cambridge police officer James Crowley over for a beer on Thursday, it might have polled best with one particular constituency: comedy writers.
Judging from the stockpile of jokes that late night comics told over the past week, the beer summit was comedy gold for material. Night after night, joke after joke, Letterman, O'Brien, Fallon, and Maher milked the meeting. And they produced some funny stuff.
Out of the four, Letterman appeared to enjoy the summit the most, producing the most jokes at the expense of the meeting. And what would an Obama joke be without throwing in the obligatory jab at Joe Biden?
"Big beer fest at the White House. And today, Obama sent Vice President Biden on an emergency goodwill mission for pretzels, so that will be good," Letterman observed.
Fallon played with the tee-totaling vice president as well: "President Obama held his first beer summit at the White House today. Obama wanted Bud Light, Crowley wanted Blue Moon, Gates wanted a Red Stripe, and Joe Biden wanted whatever fits in his beer helmet."
Perhaps Fallon and Letterman share some of the same comedy writers?
"He invited the professor and the cop to come to the White House on Thursday for beer. Alcohol usually cools things off. Have you noticed that? That's where you want to go," Letterman deadpanned.
Fallon went down the same road: "Finally, tomorrow, President Obama has his big beer summit with Professor Henry Louis Gates and Sergeant James Crowley. Yeah, that's a great idea. In my experience, the best way to settle an argument between guys from Boston, just add alcohol."
---