Joe Wilson outburst a windfall for SC Dem Rob Miller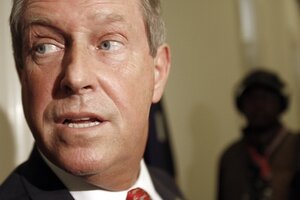 Harry Hamburg/AP
Update: Joe Wilson releases new fundraising video.
Yesterday morning, Rob Miller was a relative unknown -- a Democrat lagging far behind Republican Rep. Joe Wilson in the 2010 congressional race. Now, after Wilson shouted at President Barack Obama during an address on healthcare, Miller is watching his political fortunes soar.
"Rob Miller for Congress" is one of the most searched terms on the Internet. The national Democratic leadership has singled out Miller for praise. And Miller, a former Marine and Iraq war veteran, reportedly raised more than $200,000 from thousands of donors since Wilson's outburst.
To recap: Last night, Obama delivered a speech to a joint session of congress. At one point, he assured lawmakers that illegal immigrants would not be covered by the Democratic healthcare reform proposal. That provoked Wilson to shout "You lie!" Wilson has since apologized for the incident, and Obama has accepted his apology.
---