Jimmy Carter: Racism behind Joe Wilson outburst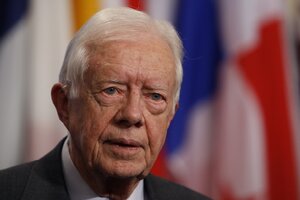 NEWSCOM
If you thought the buzz behind Congressman Joe Wilson's "You lie" outburst last week was over, think again.
Think baseball bat meets hornet's nest.
Nothing stirs up things more than a charge of racism. You put a high-profile figure behind the charge – like former President Jimmy Carter – and you've got front page news again.
And that's exactly what Carter is saying: Wilson's two-word bit of emotionalism last week? Racism.
"I think an overwhelming portion of the intensely demonstrated animosity toward President Barack Obama is based on the fact that he is a black man, that he's African American," Carter told NBC yesterday (see video below).
"I live in the South, and I've seen the South come a long way and I've seen the rest of the country that shared the South's attitude toward minority groups at that time ... and I think it's bubbled up to the surface," Carter said, "because of a belief among many white people, not just in the South but around the country, that African-Americans are not qualified to lead this great country."
---