Huckabee beats Romney, Palin in soon to be forgotten poll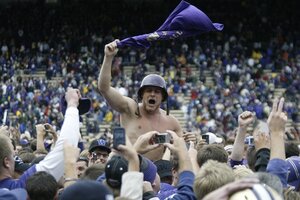 NEWSCOM
So Mike Huckabee beat Mitt Romney, Sarah Palin, and Tim Pawlenty in a straw poll of potential GOP presidential contenders hosted by the Family Research Council on Saturday.
Woo-hoo.
If the adrenalin isn't pulsating through your body this morning with news of the results at the Values Voter Summit, you're not alone. The Washington Huskies beat USC yesterday. Now that's news. Florida State upended BYU -- blew 'em out. Wow. Virginia Tech topped Nebraska in the last minute of the game. Now that's exciting.
Sorry, but Huckabee beating Romney at a political conference more than three years before the next presidential election? Missed that one. It didn't come across the ESPN ticker yesterday.
But since this is a political blog, we'll give it its due. And we're not diminishing the conference or the Family Research Council. It's just too early to put much into it. Not to mention the college football was really, really good yesterday.
---