Obama and woman go golfing (just like Adam Sandler and Bob Barker)
(Read article summary)
President Obama was joined today by a female staffer on the golf course. This marks the first time he's golfed with a woman since becoming president.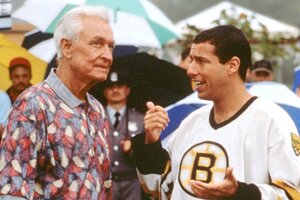 NEWSCOM
This should take some sting out of the earlier criticism.
President Obama went golfing this afternoon. No, he wasn't being criticized for not golfing enough. He was getting some flak for not including women in his White House basketball games.
So what'd he do? Asked a female staffer to join him for 18 holes. A big deal? Maybe, but only because since becoming president his golfing partners have all been men.
That all changed today as the president's chief domestic policy adviser – Melody Barnes – joined him.
As for the game itself, there's no play-by-play. The pool reporters aren't like that tall Frankenstein-like guy in the movie "Happy Gilmore." They can't follow the president on every hole.
Further, let's hope their outing was more harmonious than the pairing of Adam Sandler and Bob Barker in that same movie. Fans of the cult classic will remember that everything started off fine between the two in the Pro-Am tournament. But relations quickly soured when Gilmore (Sandler) couldn't find his swing due to heckling by an obnoxious fan.
---