Sarah Palin on Oprah Winfrey Show: Five best outtakes
(Read article summary)
In outtakes from Sarah Palin's appearance on Oprah Winfrey's show, Palin talks about about keeping a journal, not banning Harry Potter, and dressing up as Tina Fey.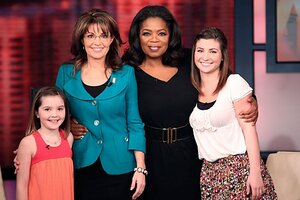 George Burns/Harpo, Inc./Reuters
Not all of Sarah Palin's interview with Oprah Winfrey made it onto Monday's show.
Sure, Oprah's broadcast had lots of good bits, from Palin's statement that a run for the White House in 2012 is "not on my radar screen right now," to the conciliatory Thanksgiving dinner invitation she says she proffered Levi Johnston, the father of daughter Bristol's baby.
But the outtakes have great stuff, too. Some are posted on Oprah's website.
Among the most interesting items:
Sarah's journal. In discussing how and why the ex-governor of Alaska came to write her memoir, "Going Rogue," Ms. Palin said "I have a journalism degree and have journalled all of my life."
Oprah jumped at this, asking Palin when she first started writing down her thoughts. For a second, the question hangs there, giving the impression that perhaps Oprah has caught Palin out in some kind of misstatement.
But Palin jumps back in, saying she's kept a dairy since she was in elementary school, and that recently she and her sister went over the diary entries. Lots of them dealt with chopping wood.
"Almost every day I have some kind of entry about having to stack firewood in order to heat the home," Palin told Oprah.
Sarah Palin and the sorcerer's stone. Palin said that many lies and much innuendo was spread about her in the media during the 2008 presidential campaign. Many of the false statements could have been disproved easily, Palin said.
---