Sarah Palin escapes flying tomato attack
(Read article summary)
Sarah Palin dodged flying tomatoes yesterday in Bloomington, Minnesota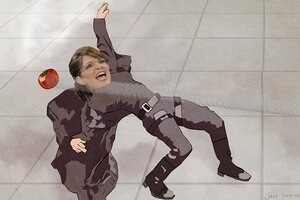 Jake Turcotte
It's December. Time for holiday traditions.
Most of us engage in the standard holiday fare. Putting up Christmas trees. Lighting the Menorah. Some have a more unconventional approach. The gang in the sitcom "It's Always Sunny in Philadelphia," for example, celebrates by throwing rocks at trains.
Maybe that's where the idea came from….
For the second year in a row, December has been the month where people throw things at politicians.
You remember last December when President Bush was the victim of a flying shoe attack? This time, former vice presidential nominee Sarah Palin was the target. The weapon of choice? Tomatoes.
Much like Bush, Palin was unscathed in the attack. As you recall, Bush escaped because of his ninja-like dodging moves. Palin avoided disaster because the assailant was a bad shot. A really bad shot.
Tomatoes Going Rogue
All the drama occurred yesterday at the Mall of America in Bloomington, Minnesota. Palin was at another stop on her "Going Rogue" book tour.
---