Harry Reid is no Trent Lott, White House says
(Read article summary)
The White House stepped up its defense of Senate majority leader Harry Reid. But Republicans claim his racially insensitive comments resemble those made by Trent Lott in 2002, which led to his resignation as majority leader.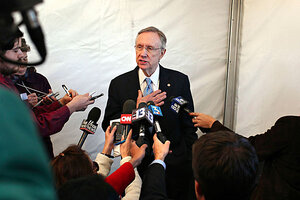 Tiffany Brown/Las Vegas Sun/Reuters
The White House stepped up its defense of Senate majority leader Harry Reid on Monday in the wake of a controversy surrounding racially tinged comments about then-presidential candidate Barack Obama.
White House spokesman Robert Gibbs denied Republican claims that the comments, which a new book quotes Senator Reid as making, resemble those made by Republican majority leader Trent Lott in 2002. Those comments led to his resignation from his leadership position under pressure.
Reid called Mr. Obama on Saturday to apologize for comments describing him as a "light-skinned" African-American with "no Negro dialect, unless he wanted to have one." The comments were reported in a book by John Heilemann and Mark Halperin called "Game Change" that will be published Tuesday.
Unfortunate comments forgiven
Obama issued a statement Saturday saying that Reid had called him and "apologized for an unfortunate comment reported today." The president went on to say that he "accepted Harry's apology without question because I've known him for years, I've seen the passionate leadership he's shown on issues of social justice and I know what's in his heart." He added, "As far as I am concerned, the book is closed."
But a number of top Republicans called on Reid to step down, citing the incident in 2002 when then-Senator Lott made remarks at a 100th birthday party for Sen. Strom Thurmond. Lott's comments sounded supportive of Mr. Thurmond's 1948 presidential campaign against Harry Truman. Thurmond ran on a segregationist platform, although he later became a civil rights supporter. Lott resigned as majority leader after getting tepid support from the Bush White House.
---