Robert Gibbs gets Twitter account - gets insulted immediately
(Read article summary)
White House Press Secretary Robert Gibbs announced he launched a Twitter account today.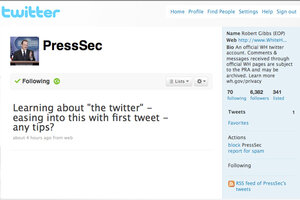 Twitter screenshot
So what does it mean to have the White House Press Secretary on Twitter? We don't know. But we'll soon find out.
Robert Gibbs announced this afternoon that he's activated a Twitter account. PressSec is his Twitter name which probably means it was grabbed up awhile ago and perhaps he thought the three-day weekend would be a good time to ease into it.
Last summer he told C-SPAN that Twitter was blocked on White House computers so he was unable to join the Twitterverse (see video below).
Twitter activity
Gibbs hasn't gone crazy and started trash-talking his followers like Chad Ocho Cinco (which would be awesome). Instead, he's only thrown out one lonely tweet where he meekly asks for some guidance.
PressSec: "Learning about "the twitter" - easing into this with first tweet - any tips?" Gibbs asked.
The question packs a powerful punch. He's already nearing 7,000 followers at the time of this posting and he's received plenty of tips and many other "pointers."
What to do
Some followers were happy to dispense advice. Real advice, like:
dynomitethings: The 1st tip is free: Don't refer to it as "The Twitter."
And:
patrickroddy: @PressSec Try not to make it all business. This can be great tool to humanize yourself.
This one seemed particularly prescient:
Kajivar: @PressSec Ignore the anonymous crazies who are going to spam you with vicious insults. That'd be my biggest tip.
Watch out
Because plenty of people went straight for the jugular. Like:
fleckman: Shouldn't Gibbs new twitter acct be @PressSUK instead of @PressSec
---