John Mellencamp: Replacement for Evan Bayh in Senate?
(Read article summary)
Grassroots efforts are under way to draft rock musician John Mellencamp as a replacement for retiring Sen. Evan Bayh of Indiana.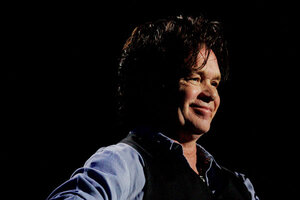 NEWSCOM
As Indiana Democratic leaders scramble to replace Evan Bayh in the US Senate race, one name is emerging from left field: rock musician John Mellencamp.
When questioned Wednesday, Mellencamp publicist Bob Merlis responded to the Monitor via e-mail this way: "As of now, there is no response." The lack of an answer — which was the same given to the Indianapolis Star Wednesday — is helping the Internet rumor mill churn even faster.
Grassroots efforts are urging Mr. Mellencamp to take the leap. On MSNBC Tuesday, Katrina Van Heuvel, editor of The Nation, suggested that Mellencamp could be a "populist candidate" as someone "who worked very hard for farmers who faced foreclosures" and "a Heartland son of Indiana."
Chicago film critic Roger Ebert suggested a Mellencamp candidacy via Twitter Monday. A Facebook page dedicated to drafting Mellencamp as a candidate had 940 members by mid-Wednesday. An online petition via CitizenSpeak calls the singer "someone who can win this November" and "a staunch advocate for Hoosiers of all backgrounds."
Mellencamp is revered in his home state, where he continues to live, record music, and raise a family. Best known for hits like "Pink Houses," "Jack and Diane," and "R.O.C.K. in the U.S.A.," he is also a staunch Democrat who campaigned for Barack Obama.
---