Joy Behar and Sarah Palin united on Family Guy controversy
(Read article summary)
Outspoken Sarah Palin critic Joy Behar sided with Sarah Palin on the ongoing Family Guy issue.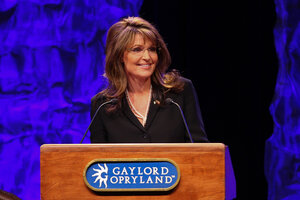 NEWSCOM
It's not like we're going to see Joy Behar wearing a "Drill, Baby, Drill" T-shirt while field dressing a moose at a Tea Party convention or anything but at least on one issue she sides with Sarah Palin.
It just wasn't necessary, Behar said, for writers of the FOX animated comedy "Family Guy" to connect a character with Down Syndrome to Palin.
"Why go there?" she asked on "The Joy Behar Show" Friday night. "There are so many other things to attack Sarah Palin on." (And Behar does...)
Palin's youngest son Trig is diagnosed with the condition. On the program Sunday night, a character with Down Syndrome told a friend that "her mom is the former governor of Alaska."
It was the only reference in the show to Palin. But it was enough. Anything Palin is reported on. This was radioactive.
Palin called it a "kick in the gut." Daughter Bristol called the writers "heartless jerks." But the voice actress of the character, who has Down Syndrome, said Palin needed to lighten up.
---