Grove Park Inn: Where the Obamas are heading on a weekend getaway?
(Read article summary)
The Obamas headed out for a short weekend break from Washington. Word has it they'll be staying at the Grove Park Inn in Asheville, N.C. Maybe a little golf?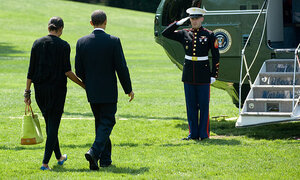 Newscom
Maybe President Obama is tired of looking at pillars, and porticos, and all that formal Federal-style decoration. That would explain why he and Michelle are fleeing Washington for a weekend at a place that's about as different from the White House as you can get, architecturally speaking: the Grove Park Inn, in Asheville, N.C.
Well, we think that's where he's going, anyway. The White House is saying only that the first couple is going to Asheville, without confirming where they're sleeping. But local media – which would know, because they'd see the Secret Service advance guard – are reporting that the Obamas are Grove Park Inn-bound.
The Grove Park Inn is one of the best remaining examples in America of an Arts and Crafts resort. Arts and Crafts (sometimes called Mission) is a style that relies on big slabs of quarter-sawn oak, rough stones, and a generally rustic appearance. It's a plain look that dates from the late 19th and early 20th centuries and was a reaction against the fussiness of the Victorian era.
---