Democrats not fired up, not ready to go for Election 2010
(Read article summary)
Heading into Election 2010 this fall, Democrats' biggest worry might be that Democrats are not excited about voting. Republicans are, though, and the 'enthusiasm gap' is huge.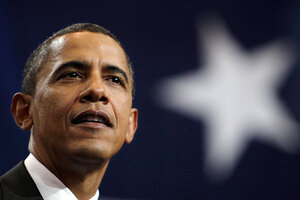 Carolyn Kaster/AP/file
Remember when Barack Obama would stride onstage at big rallies during the 2008 campaign and shout, "I'm fired up and ready to go!" His supporters loved it. They'd often chant, "Ready to go, ready to go, ready to go," right back.
The president's party could use some of that old enthusiasm right now. Because when it comes to the 2010 midterms, Democrats are not fired up, and not ready to go. They are ready to stay home and not vote.
That's a big reason why the Republicans are increasingly favored to take back the House and have a chance to regain majority status in the Senate. It is GOP voters that now are excited about their party's electoral prospects.
You can see this enthusiasm gap in the latest polls. A Gallup survey released Sept. 7 found that 50 percent of Republicans are "very enthusiastic" about voting in the coming election. The corresponding figure for Democrats is 25 percent.
You read that right. It means GOP voters are twice as happy about their prospects. And enthusiasm is one of the things that make ordinary registered voters likely voters, according to pollsters. That's just common sense, if you think about it.
Republicans also have a big lead in another indicator of voter turnout to come – the amount of attention they say they've been paying to the upcoming midterms.
A Sept. 2 Gallup survey found that 54 percent of Republicans have given "quite a lot" or "some" thought to the 2010 elections. The corresponding figure for Democrats is 30 percent.
Fully 64 percent of self-identified conservative Republicans have given quite a lot or some thought to the vote. Liberal Democrats come in at only 32 percent on this question.
---