House GOP's 'governing agenda': a 2010 Contract With America?
(Read article summary)
House Republicans are set to release a 'governing agenda' Thursday, outlining their priorities should they take control after the 2010 election.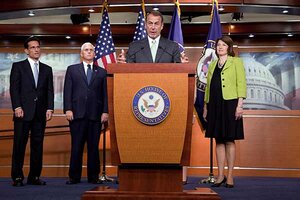 Evan Vucci/AP
For months, pundits have been comparing this election with 1994, when Republicans took back control of Congress and gained 54 seats in the House of Representatives. Can they do the same this November, with the public mood seemingly turned against Democrats and incumbents?
Now, here's another similarity: On Thursday, House Republicans are set to release a "governing agenda," outlining their priorities should they take back control.
Comparisons with Newt Gingrich's 1994 "Contract With America" are inevitable; that document was also released six weeks before the election (on Sept. 20) and set forth eight reforms the GOP backed and 10 bills lawmakers promised to bring to the floor should they be elected.
The Republicans' victory – and the resurgence of the conservative movement – became closely linked to the contract.
No details are available about this year's document, which will be announced at a hardware store in Sterling, Va. – a contrast with the Capitol-steps signing ceremony that accompanied the Contract With America release – but it is supposed to contain about 20 points. It's likely to include a repeal of President Obama's health-care-reform and economic priorities, including reining in spending and emphasizing job creation.
At least in part, the agenda is fueled by public input, via "America Speaking Out," an Internet project that solicited ideas earlier this year.
So will this election be 1994 redux?
---