Rand Paul and the 'Aqua Buddha': why Election 2010 is turning nasty
(Read article summary)
What is the 'Aqua Buddha' and why did it turn a Senate debate between Democrat Jack Conway and Republican Rand Paul of Kentucky into the 'nastiest' of Election 2010'? It's classic attack politics.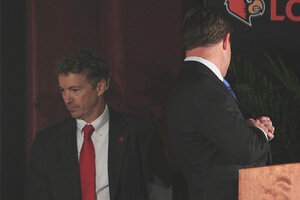 John Sommers II/Reuters
In a campaign season that has seen its share of viciousness and name-calling, it's one of the lowest moments. Now the blogosphere is abuzz with the effort to assign blame.
Sunday's debate in Kentucky between Senate candidates Rand Paul and Jack Conway is being dubbed the "nastiest debate of 2010" by Talking Points Memo (which has compiled a video of "highlights"). At the end, Mr. Paul, the Republican candidate, was so angry he refused to shake Mr. Conway's hand. He is considering whether to even participate in the final debate, scheduled for Oct. 25.
The root of the dispute: an alleged incident from Paul's college days. A GQ article published two months ago claims that while a student at Baylor University, Paul was a member of a secret society called the NoZe Brotherhood that existed largely to torment the administration and enjoyed "tweaking the school's religiosity."
In particular, it quotes an anonymous woman who says that Paul and a friend tied her up one afternoon, tried to force her to smoke pot, and then took her to a creek, where they blindfolded her and forced her to bow down and worship "Aqua Buddha."
Needless to say, it's a story that Paul has denied, but Conway has tried to capitalize on it, bringing it up repeatedly during Sunday's debate, and running an ad about the incident.
---