Sharron Angle ad: Is it racist?
(Read article summary)
Sharron Angle, the Republican Senate candidate from Nevada, has released a hard-hitting new ad on illegal immigration. But Hispanic groups say the ad is racist and accuse Sharron Angle of running 'one of the ugliest anti-illegal immigrants ad campaigns in history.'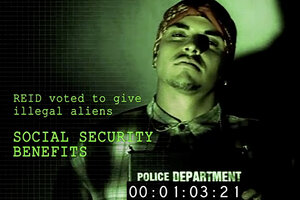 YouTube
Sharron Angle has a new ad up that features Hispanic-appearing men carrying weapons and appearing in police mug shots. In the ad, she alleges that her opponent, incumbent Sen. Harry Reid (D) of Nevada, is soft on illegal immigrants.
Has the Republican Senate candidate gone too far? Is the spot a racially-tinged appeal in the mold of the Willie Horton attack ad of 1988?
That was a campaign ad sponsored by an outside spending group that associated Democratic presidential candidate Michael Dukakis with a black convict, William Horton, who murdered a woman after escaping from a furlough program that Mr. Dukakis had supported.
Hispanic and pro-immigration groups are furious. They say they will launch a Spanish-language ad blitz to try to counteract the effect of an ad which, they say, depicts Hispanics as criminals and thugs.
The groups – America's Voice, Mi Familia Vota, and Campaign for Community Change – said Tuesday that this campaign will try to convince Hispanics of the need to vote to counteract rising anti-immigrant sentiment.
"Sharron Angle has decided to run one of the ugliest anti-illegal immigrants ad campaigns in history," said Frank Sharry, executive director of America's Voice.
Earlier this month, the Hispanic groups had accused a Republican-backed organization of running ads in Spanish in Nevada which were designed to actually suppress the Hispanic vote.
---