Democrats lose Obama's old Senate seat to Mark Kirk
(Read article summary)
Republican Mark Kirk won the close Illinois Senate race, despite several mistakes and President Obama's hard push hard for Alexi Giannoulias, the Democratic candidate.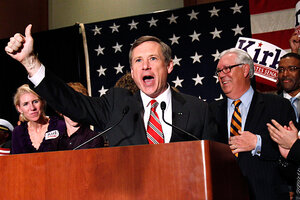 Nam Y. Huh/AP
If Tuesday's election was a referendum on the Obama administration, nowhere was the result more symbolic than in his party's loss of his old senate seat.
Despite heavy campaigning from President Obama, Alexi Giannoulias – a lackluster candidate for many Illinois voters – lost to Republican Rep. Mark Kirk.
It's been a far better night for Democrats in the Senate than in the House. Democrats not only held onto control of the Senate, but prevailed in majority leader Harry Reid's all-out scramble for reelection in Nevada.
Still, their losses in close elections in Pennsylvania and Illinois were big disappointments.
The Illinois loss is a particularly personal blow to Mr. Obama. In recent months, he's visited Chicago, hosted fundraisers, and recorded "robo-calls" for Mr. Giannoulias, all in an effort to help Democrats hang on to the seat he vacated two years ago.
But it wasn't enough.
And this in Obama's home state, which had been considered reliably Democratic.
Still, a few other factors in Illinois are at play. Giannoulias never managed to generate any enthusiasm, even among many Democrats there. And he faced a candidate, in Congressman Kirk, who is a moderate Republican able to capture independent votes even though he had many missteps.
---