Tucker Carlson says Michael Vick should be executed. Is he serious?
(Read article summary)
President Obama is grateful that quarterback Michael Vick got a second chance after serving jail time for running a dog-fighting business. But commentator Tucker Carlson – a vehement animal-rights activist – said Vick 'should have been executed' for killing dogs.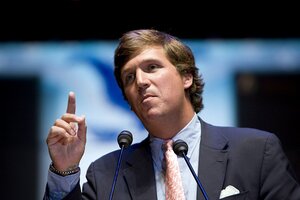 Newscom
'Tis the season when news is where you find it (or make it up). So with Republicans and Democrats back home plotting political strategy and tallying campaign contributions for 2012, we'll hit on something just ever-so-slightly over the edge into the irrelevant and ridiculous.
We're talking here of the reaction to President Obama's approval of the Philadelphia Eagles giving quarterback Michael Vick a second chance after his jail stint for running a particularly cruel dog-fighting operation.
The latest twist is conservative commentator Tucker Carlson's declaration that Vick "should have been executed" for killing dogs. Mr. Carlson was filling in for Sean Hannity on the Fox News Channel.
Carlson didn't suggest the means of execution he had in mind (perhaps being thrown into a pit of angry canines). Here's his full quote:
---