Bid to repeal health care reform: Will Arizona tragedy alter debate?
(Read article summary)
A call for 'thoughtful consideration' of repeal of Obama's health-care reform law may signal a more moderate tone to next week's debate than both sides in the House had anticipated.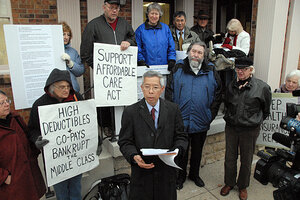 Anthony Weber/Troy Daily News/AP
The House of Representatives will resume substantive work next week as it considers the bill to repeal President Obama's health-care reforms. Debate on the measure is set to begin Tuesday, with a vote likely on Wednesday evening.
"As the White House noted, it is important for Congress to get back to work, and to that end we will resume thoughtful consideration of the health-care bill next week," said Brad Dayspring, a spokesman for majority leader Eric Cantor (R) of Virginia.
The GOP leadership envisioned the health-care repeal vote as a triumphant beginning of the congressional session for the new Republican-controlled House. But the shooting spree in which Rep. Gabrielle Giffords (D) of Arizona was wounded and six others killed has greatly altered the context in which the 112th Congress begins its work. How will that tragic event affect action on health-care repeal, in particular?
---