Scalia addresses Tea Party Caucus – but should he?
(Read article summary)
Critics question the propriety of a sitting justice attending a closed-door partisan session, but the event organizer insists all members of Congress are welcome at the 'Conservative Constitutional Seminar.'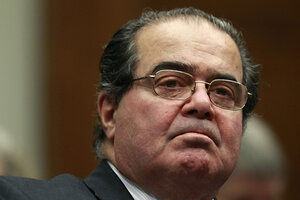 Kevin Lamarque / Reuters / File
Is it it inappropriate for a Supreme Court justice to address a 'Conservative' events, or is this all a tempest in a tea pot?
Since it was first announced in December that Supreme Court Justice Antonin Scalia would address the Tea Party Caucus's first "Conservative Constitutional Seminar" event Monday, critics have been quick to jump on his decision.
Attending such a partisan event, they said – and particularly one that is closed-door – casts doubts about Justice Scalia's impartiality and raises the possibility of a political alliance with conservative members of Congress.
The New York Times editorial board weighed in with a strongly worded plea for Scalia to turn down the invitation.
"By meeting behind closed doors, as is planned, and by presiding over a seminar, implying give and take, the justice would give the impression that he was joining the throng — confirming his new moniker as the 'Justice from the Tea Party,'" the New York Times wrote, noting that they would have a similar objection to a justice speaking to a group on the political left.
But Scalia is going ahead with his plans, and Michele Bachmann, the Republican congresswoman from Minnesota who founded the caucus and is hosting the seminar, is trying to head off such criticisms by calling the seminar a "bipartisan event" and emphasizing that the doors are open to all members of Congress – though not to the media, nor will there be any official record of the event.
---
Follow Stories Like This
Get the Monitor stories you care about delivered to your inbox.