Why Mike Huckabee probably won't run for president in 2012 (video)
(Read article summary)
Mike Huckabee has an Achilles' heel that nags at him: money. The possible 2012 GOP presidential candidate isn't good at raising it, and he worries about having an empty bank account – again.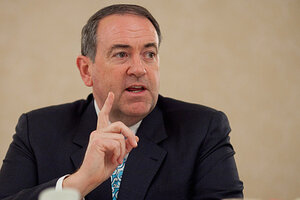 Michael Bonfigli / Special to the Christian Science Monitor
Mike Huckabee is the Hamlet of the 2012 presidential cycle. The former governor of Arkansas says he really, truly has not decided whether to run for the Republican nomination, and we believe him. He says he'll decide this summer.
His just-released book, "A Simple Government," and accompanying book tour – which happens to include six stops in Iowa and five in South Carolina, two early nominating states – would appear to point to "yes."
But at a tea with reporters Wednesday sponsored by the Monitor, he seemed to plant the seeds for "no."
First, let's go through the reasons Mr. Huckabee should go for it: He had a terrific run four years ago, when he ran as an unknown and caught fire with his folksy charm, superior communication skills, and special appeal to religious conservatives, as a former Baptist minister. He won the Iowa caucuses, then came close in South Carolina. A few tweaks here and there, and he could have won the nomination.
Republicans often nominate someone who has tried before. And a Gallup poll released Wednesday put Huckabee in the lead for the nomination among Republican and Republican-leaning independent voters, with 18 percent, ahead of former Massachusetts Gov. Mitt Romney (16 percent) and former Alaska Gov. Sarah Palin (16 percent). Given the size of the potential field, that's no mean feat.
---