Why is Jeb Bush sharing the stage with President Obama?
(Read article summary)
Jeb Bush, former governor of Florida, will appear with President Obama at an education event in Florida on Friday. What's in it for him?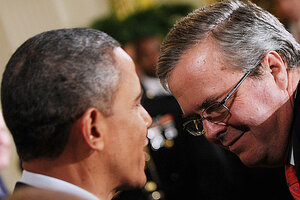 Olivier Douliery / ABACAUSA.com / Newscom / File
The scene on stage Friday at a Miami public high school will be eye-catching: the Republican former governor of Florida, Jeb Bush, alongside President Obama.
Education Secretary Arne Duncan invited former Governor Bush to appear with the president at an education event in Florida, and Bush in turn recommended the venue – Miami Central High School, which has made strides in turning itself around.
It's obvious why Mr. Obama would want Bush there. He is a Republican star, albeit one who can't run for president just yet, given lingering Bush fatigue. The presence of Jeb Bush, whose older brother George W. Bush also emphasized education during his presidency, puts a bipartisan seal of approval on Obama's own education efforts.
But why is this a good move for Jeb Bush? He has made clear that he's not running for office in 2012 (either president or Senate), but don't rule out a presidential run in 2016. One of his big issues is education. During his two terms in Tallahassee, Bush fashioned himself as the "education governor," then started the Foundation for Excellence in Education after leaving office in 2007. Its goals sound a lot like Obama's: high expectations, data-driven accountability for teachers, outcome-based funding, helping the nation compete globally.
---