Is Donald Trump really the GOP frontrunner?
(Read article summary)
Donald Trump leads the Republican field, according to a new national poll. Analysts ask, is this real, or are poll respondents 'giving a stupid answer to a stupid question'?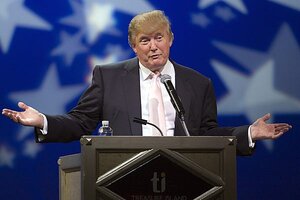 Steve Marcus / Las Vegas Sun / Reuters
Wow – is Donald Trump now really the frontrunner for the Republican presidential nomination? After all, that's the conclusion of a new national poll from Rasmussen Reports.
According to the April 28 survey, developer/reality show star Trump leads among likely GOP primary voters with 19 percent support. Former Massachusetts Governor Mitt Romney was the choice of 17 percent of respondents, while 15 percent opted for former Arkansas Governor Mike Huckabee. Sarah Palin and Newt Gingrich trail the field at nine percent each.
Trump led among male voters and registered Republicans, according to Rasmussen. Romney leads among females and independents who are likely to vote in a GOP primary.
First of all, for all of you commentators out there who believe the media should just ignore Trump due to what some might term his "acute blowhardia", this is one reason he's been getting so much coverage. It appears that a substantial slice of voters actually like him. (Yes, yes, we can debate whether he would be doing so well if the press ignored him, etc. But think how much criticism the media would come in for if it entered into some loose conspiracy of non-coverage of a political figure. And right now, he is a political figure.)
---