GOP contenders face tough questions about policies, personal lives
(Read article summary)
Gingrich, Romney, Daniels, Pawlenty, and other Republican presidential hopefuls face tough questions about past policy positions and their personal lives. Will Americans give them a break?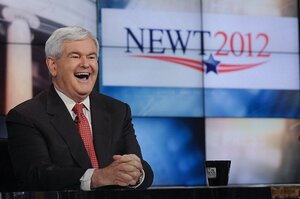 William B. Plowman/NBC News/AP
Nine months may seem like a long time if you're pregnant. But in terms of the gestation period for presidential campaigns, it means "time to hustle" before the first party primaries.
In a mere nine months, voters will begin the process of choosing major party nominees. We already know one: Barack Obama (barring unforeseen events), who has no known Democratic challengers.
Mike Huckabee has just announced his noncampaign on the GOP side. That leaves a half dozen or so Republicans seen to be seriously angling for the nomination. (And, among pundits, having a serious shot at the prize.)
For one thing, they'll try to fill the Huckabee void among socially conservative Republicans, particularly evangelical Christians – strong supporters of the former Southern Baptist preacher turned broadcaster.
"His voters are very independent and they're going to go where they believe that America needs to go both in conservative and spiritual values," Newt Gingrich said Sunday on NBC's "Meet the Press." ''Governor Huckabee is going to remain a very important figure in the conservative movement, and I suspect that he's going to have a role to play for years to come."
Translation: Whomever Mr. Huckabee throws his support to – assuming he doesn't stay on the sidelines entirely – will have a huge advantage among socially conservative Republicans. And that means just about every primary voter and caucus-goer, including most tea partyers.
---