Newt Gingrich quotes Mark Twain: 'Reports of my campaign's death are exaggerated'(VIDEO)
(Read article summary)
Newt Gingrich, borrowing from Mark Twain at a Monitor breakfast on Monday, said his presidential campaign can recover from a rocky start. He frames himself as an idea man who can go toe to toe with Obama.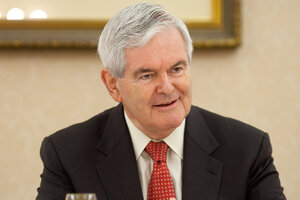 Michael Bonfigli / The Christian Science Monitor
GOP presidential hopeful Newt Gingrich at a Monitor breakfast on Monday said the rocky start to his race won't put him on the sidelines.
"I want to reassure you in the tradition of Mark Twain that the reports of my campaign's death are highly exaggerated," said the former House speaker.
Mr. Gingrich said that in his recent travels through the early-caucus state of Iowa he attracted large and enthusiastic crowds, most of whom apparently did not care that he had told David Gregory of "Meet the Press" that the voucher-like Medicare plan proposed by Rep. Paul Ryan (R) of Wisconsin was "right-wing social engineering."
Gingrich came into the breakfast meeting with a "Newt 2012" handout outlining key policy positions for his campaign and ticked off a number of them as he framed himself as the candidate of specific ideas with a good chance to beat the GOP's real adversary, Barack Obama.
"I have the ability to articulate large differences with President Obama and win the debates in 2012," he said.
For instance, Gingrich said he favors a "Reagan-like" economic policy that includes a freeze in the current tax code so Bush-era tax cuts stay in place, an end to the capital gains tax, and an abolishment of the estate tax.
---