Debt limit crisis: what's happening today?
(Read article summary)
No weekend negotiations on the debt limit crisis, though President Obama has told top lawmakers to keep their schedules free. In their weekend addresses, Obama and designated hitter Sen. Orrin Hatch made familiar arguments.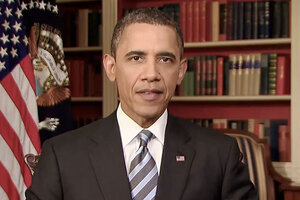 Screen grab/Whitehouse.gov
The nation is hurtling towards debtmageddon, so Democrats and Republicans are spending the weekend in intense negotiations over possible plans to raise the government's borrowing limit. Aren't they?
Umm, not that we know of. There aren't any face-to-face negotiations scheduled this weekend between President Obama and Republican leaders, though that could change. The White House has told top lawmakers to keep their schedules free for a possible meeting, probably on Sunday, according to Politico.
What the two parties are doing is trying to frame their positions on fiscal issues in a manner that presages arguments they might be making in the 2012 election campaign.
For President Obama, that means he's saying the whole thing is about his effort to protect the middle-class, as he aims to win back independent voters alienated by his health care reforms, among other policies.
In his Saturday video address, Obama said that he was willing to take a "balanced" approach to putting the nation's fiscal house in order, including some measures his own party does not like, such as reforming Medicare.
---