Christine O'Donnell walks off Piers Morgan for being 'rude' [VIDEO]
(Read article summary)
Christine O'Donnell walked off the Piers Morgan Tonight show during an interview about her book after Morgan asked about gay marriage.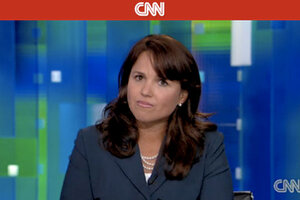 Video screen grab/CNN
Self-described trouble maker Christine O'Donnell appeared on the Piers Morgan Tonight show on Wednesday, trying to talk about her book, "Trouble Maker: Let's Do What It Takes to Make America Great Again."
O'Donnell, a tea party favorite, is best known in Delaware for defeating the heavily favored nine-term Congressman and former governor Michael Castle in the state's September 2010 Republican Senate primary. She lost in the general election to Democrat Chris Coons.
Outside of Delaware, she is perhaps most famous for her claim to have once "dabbled into witchcraft," and her subsequent ad in which she disclaimed possessing supernatural abilities.
Before coming on Morgan's show, she had already told Good Morning America that she regretted the "I'm not a witch" campaign ad. She said experts told her to do the ad, but that she has since learned to "trust your gut."
---