Obama pushes 'Buffett Rule' to tax the wealthy. GOP cries 'class warfare!'
(Read article summary)
To reduce the deficit and create jobs, President Obama wants a "Buffett Rule" to make the super wealthy pay taxes at a rate more like average Americans. Republicans call that "class warfare."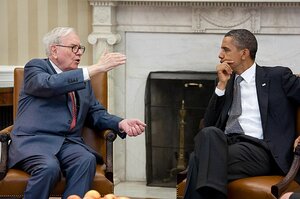 Newscom
If you're aiming to tap the wallets of "millionaires and billionaires," as President Obama is with his plan to create jobs and reduce the national debt, it's not a bad idea to have at least one prominent billionaire on your side.
And that Obama does with investor and philanthropist Warren Buffett, the "Oracle of Omaha" whose estimated net worth is $47 billion. They're such good buddies, in fact, that the "Buffett Rule" will be part of the plan to be unveiled at the White House Monday morning.
Details will be left to those in the administration and Congress tasked with rewriting the federal tax code. But the essence, as first reported in the New York Times, is that the wealthy "pay at least the same percentage of their earnings as middle-income taxpayers."
In the abstract, at least, it's hard to argue with that. And polls show that most Americans – in theory, at least – are on Obama's side.
Earlier this year, an NBC News/Wall Street Journal survey showed that 81 percent of those polled agreed that "placing a surtax on federal income taxes for people earning over one million dollars a year" would be "acceptable" (55 percent said "totally acceptable"). Sixty-eight percent also were OK with "phasing out the Bush tax cuts for families earning $250,000 or more per year."
---