Rick Santorum tears up ahead of Iowa caucuses. Why that's not a problem.
(Read article summary)
Crying on the stump was once a campaign killer, but the authentic emotion Rick Santorum showed Tuesday when asked about the death of his son can only help him compete in Iowa caucuses.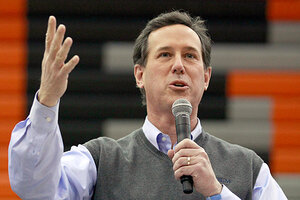 Charlie Riedel/AP
Time was when crying on the stump was a campaign killer, for both male and female candidates. Now, if anything, it's a potential positive – as long as the tears are genuine.
And there was no doubting the authenticity of Rick Santorum's emotion Tuesday at the Pizza Ranch, in Newton, Iowa, when he was asked about how he and his wife handled the death in 1996 of their son Gabriel, who was born prematurely.
A voter brought up Fox News liberal commentator Alan Colmes's contention that the Santorums' decision to bring Gabriel home after he died was "crazy." The question struck a nerve. The former senator from Pennsylvania choked up as he explained that he and his wife, a former neo-natal nurse, wanted their children to meet their new brother before he was laid to rest.
"It was so important," Santorum said, "for the family to recognize the life of that child and for the children to know they had a brother."
His wife, Karen Santorum, stood beside him, weeping. One of their daughters came up and put her arm around her mother.
Mr. Colmes later said he apologized to the Santorums for the comment.
The episode only served to highlight Santorum's status as a favorite among born-again Christians – a key portion of Iowa's GOP base – in Tuesday evening's Republican caucuses. That life begins at conception is a foundational belief among evangelicals.
Santorum, a devout Catholic, has spent more time in Iowa than any other candidate in the GOP field, often with his wife and seven children – and the effort is paying off. His late-breaking surge in polls points to a top-three finish on Tuesday – and possibly even victory.
---