Unemployment rate: How low can it go by Election Day? Under 8 percent?
(Read article summary)
Though the unemployment rate dipped to 8.5 percent last month, it remains uncomfortably high for a president seeking reelection. Economists crunch the numbers to see if it's possible for unemployment to dip to 8 percent by Election Day.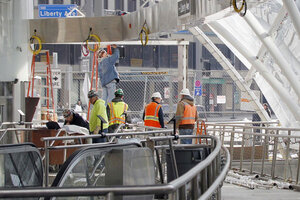 Keith Srakocic/AP
President Obama' reelection prospects hang in large part on how the economy is doing by Election Day, and perhaps the most obvious yardstick – and the one Americans care most about – is the unemployment rate.
This is hardly lost on Mr. Obama. "The most important thing we need to do is get more Americans back to work," he said in his Saturday radio address, in which he also previewed a White House forum on Jan. 11 that will feature business leaders who have opted to bring outsourced jobs back to the US.
Though the unemployment rate dipped in December – from 8.7 percent to 8.5 percent – it remains uncomfortably high for an incumbent president seeking reelection. When Obama took office in January 2009 unemployment stood at 7.8 percent, and Republicans will have a heavy cudgel with which to pound him if the jobless rate is worse almost four years later than it was then.
Commenting Friday on the latest unemployment figures, Republican House Speaker John Boehner laid down a marker of sorts: "Today marks the 35th consecutive month of unemployment above 8 percent, and too many Americans continue to struggle to find their next job."
So, could the unemployment rate sink below 8 percent by Election Day?
It's possible but not likely, say some leading economists
It all depends on whether the economy can create jobs at the rate of about 268,000 a month between now and November, says Mark Zandi, chief economist at Moody's Economy.com, in an interview. That's been the average monthly gain for the past five months, according to the Labor Department's survey of households (which differs from the department's survey of businesses because it includes new hires by small businesses). During that time, the unemployment rate has fallen from 9.1 percent to 8.5 percent.
---