Why Ron Paul is shivering in Maine instead of cavorting in Florida
(Read article summary)
The other three GOP presidential candidates are stumping in Florida ahead of the Jan. 31 primary, a winner-take-all-delegates affair. But not Ron Paul. Here's why he's up in Maine.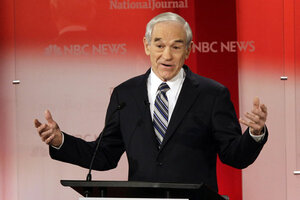 Paul Sancya/AP
What's Ron Paul up to? The other three GOP presidential candidates are focusing their efforts on Florida in advance of the Sunshine State's Jan. 31 primary. But Mr. Paul is taking two days this week to go in the other direction. He'll be in Maine, speaking at Colby College on Friday and the University of Maine's Gorham campus on Saturday, among other possible appearances.
Why Maine? It's no secret that Paul is giving Florida a pass, because ad time there is expensive and the state's electorate skews older, which is not Paul's best demographic. The Texas libertarian is focusing on caucus states such as Maine and Nevada, where his fervent supporters can more easily out-organize the competition.
But here's something that has been little noticed in the press: Maine's caucuses actually begin this weekend. So Paul may be pulling something of an end run about his rivals.
Yes, we know, if you look at the Maine Republican Party's website, it lists Feb. 11 as the date officials will announce the results of a caucus presidential straw poll.
But if you scroll through the details, you'll see that the party has established a window of Feb. 4-11 for Maine Republicans to caucus and vote for a presidential nominee and delegates to the state convention. And if you really squint and look at the fine print, you'll note that the party faithful in some towns have ignored this guidance, and are meeting either before or after the February window.
---