Why Mitt Romney and Rick Santorum may both win in Michigan
(Read article summary)
Complex rules for allocating convention delegates mean the winner of Tuesday's Michigan primary, probably Mitt Romney or Rick Santorum, is likely to share the spoils with the runners-up.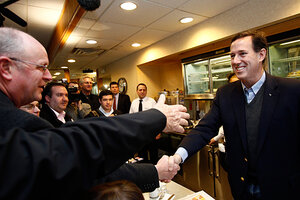 Jim Young/Reuters
There will be an overall winner of the Michigan GOP primary – either Rick Santorum or Mitt Romney will take a majority of votes statewide and give a victory speech after that margin is clear. The media will allocate momentum based on this result, saying that Mr. Romney, or Mr. Santorum, has the wind at his back heading into next week's crucial Super Tuesday votes.
But here's Michigan's secret: That result will almost certainly be overhyped. When it comes to delegates, the state is not winner-take-all. As a result of complicated allocation rules, it is possible for the popular-vote victor in the state's Republican primary to emerge with fewer delegates than the loser.
Furthermore, it looks now as if both Santorum and Romney will win at least some of the state's delegates to this summer's national convention in Tampa, Fla. That means that, in a strategic sense, the "winner" of the Michigan race won't win much of an edge at all.
"The bottom line is that barring an overwhelming victory for one candidate in Michigan, the delegate margin is very likely to be close coming out of the Great Lakes state on February 28," writes Davidson College political scientist and voting process expert Jose Putnam on his Frontloading HQ blog.
Why is that? There are two underlying reasons. The first is that the Republican National Committee is penalizing Michigan for holding its primary earlier than the RNC wanted. The state will select 59 delegates to the Tampa convention, which will officially nominate the party's presidential candidate. But of those 59, only 30 will get to actually vote.
---