Cory Booker Stories: Top 10 tweets about fearless Newark mayor
(Read article summary)
When a politician actually acts like a superhero, Twitter can't sit still. Enter Cory Booker Stories, appreciative tweets about the mayor who rushed into a burning building.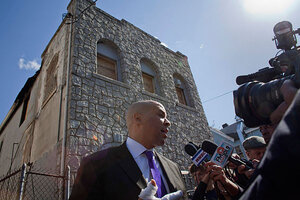 Eduardo Munoz/REUTERS
Newark Mayor Cory Booker gained sudden national fame well beyond New Jersey Friday as word spread of his heroic rush into a burning building to rescue a neighbor.
While the news media cranked out stories, and Mayor Booker sought to downplay his exploits, the users of Twitter celebrated in their own characteristic way: milking the deed for all the tongue-in-cheek idolization possible. As unlikely as it sounds, the politician-as-superhero is now an Internet meme, thanks to Booker. Even during an election year.
For the record, Booker was returning to his home after a TV interview Thursday night when he and his security detail saw the neighbor's home ablaze. After they had helped some fleeing occupants, Booker rushed back in when he heard a woman still inside, screaming for help. He dragged her out of bed and helped to get her out of the building.
Here are some of the funnier, or wilder, things that people said on Twitter under the tag "#CoryBookerStories." OK, we can admit that some of these look suspiciously like recycled Chuck Norris jokes, and others reference Norris directly. But lots of Twitter readers and retweeters didn't seem to mind.
1. The secret military mastermind edition
@JimmyJoeHardy wrote: "Seal Team 6" was actually just the code word for Cory Booker.
2. The fix Facebook edition
@impactSP2walden wrote: If anyone can convince Mark Zuckerberg to get rid of timeline, it's @CoryBooker.
---